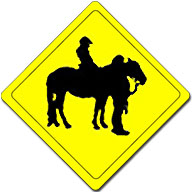 ADAPTIVE RIDING
Adaptive Riding lessons offer an individual with "Special Needs" the opportunity to learn individual riding skills while also providing them with numerous physical, emotional, cognitive and psychological benefits.
Students will learn to groom and tack their horses, with the help of volunteers.  They will then participate in "ground" and "mounted activities and games" tailored specifically to their individual abilities and capabilities.
Friends and family are encouraged to come see how Adaptive Riding
benefits their riders.
Adaptive Riding offers students the following benefits:
Increased strength, coordination, balance and muscle tone
Improved self-esteem and self-confidence
Enhanced verbal communication skills
Fostering social interaction abilities
Development of a sense of control
Sequential task completion
Behavioral skills
Teamwork
Body awareness
Reading, writing and simple math
Adaptive Riding lessons are available to children and adults, with Primary Care Physician approval.