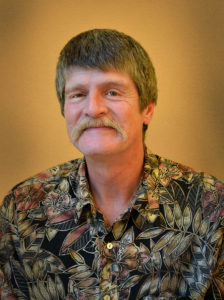 GREG ODLE
Board President
Greg was born and raised in the Pacific Northwest, lived around horses most of his life, and continues to enjoy riding with his family who continue to own several horses in the area. 
Greg has worked as a mason and in related skilled trades for over 30 years, but in his free time, became a certified riding instructor in 2004 for a "for" profit horseback riding program in Alaska, later using those skills to benefit a different therapeutic riding program in Florida where he volunteered for a year before moving to Whidbey Island. 
Click here to learn more
Greg continues to enjoy riding, as well as fishing, boating and camping.  He says he always feels better when he's actively participating in a program he values.  And Greg has certainly done that with Equestrian Crossings.  He started as a rider/student, and then moved into a volunteer where he helped students with grooming, helped as a side-walker for adaptive lessons, and now he is both a Member and on the EqX Board of Directors as the "Student & Family Liaison".   Greg's experience and love of horses are a great value to EqX and its students.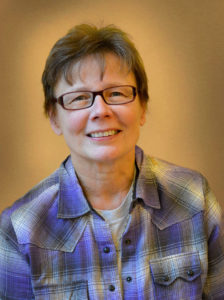 VALERIE LOCKE
Vice President
Born and raised in Kingston,N.Y.
Graduated from University of Washington with B.A. in History.
Graduated from Western Washington University wiith a Masters in Education.
Worked for 38 years at Sears.
Has been a substitute teacher in the Mukilteo School Dist. since 1997.
Joined EQX in fall of 2017.
Became V.P. beginning of 2018.
Always had a passion for horses and enjoy working with special needs children.
EQX has helped many children improve their overall mental and physical health.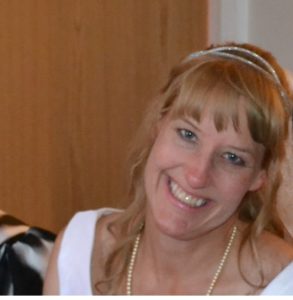 KRISTEN FISK
Treasurer
Kristen Fisk became a part of Equestrian Crossings in 2017 as she brought her own daughter Jessica there to learn adaptive horse riding lessons. She was amazed how the experience opened a whole new world to her daughter Jessica bringing both happiness and more confidence to her. Kristen then wished to be more than just a parent of an Equestrian Crossings student rider and became a Board Member and volunteer.
Kristen also works full time as a Supervisor at Payless Food Store and has lived on and off of Whidbey Island for the past 14 years. She is a certified Veterinary Assistant and has always had a passion for animals and the great outdoors.
In her free time, she enjoys hiking, discovering new Lighthouses and waterfalls in the Northwest, and spending quality time with her Daughter and Son.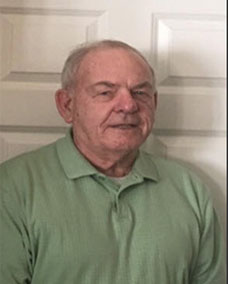 JOHN DARRACOTT
Secretary
Sunshine Committee
I retired as a Marine Corps officer, 25 years on active duty.  Upon retirement, I utilized the GI Bill and obtained both a Bachelor and a Masters Degree in Administration from City University, Seattle, Washington.  My after retirement career consisted of being in the position of a Purchasing Director/Material Manager in the medical field in Seattle for 35 years.  For 5 years prior to moving to Whidbey Island in 2017, I was an Allstate Insurance Representative working in my daughters Agency in Seattle.
For outside enjoyment I took up bicycle riding, having completed the Seattle to Portland (STP) ride 3 years, I completed the  "Trek Tri-Island" ride sponsored by the American Lung Association, which was a ride from Seattle to Victoria, B.C. 4 years.  Also took up running and completed eighteen 26.2 mile marathons.  Ran the first marathon at age 52!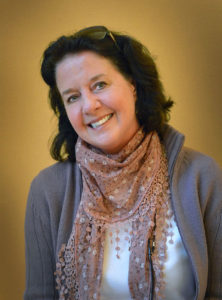 GAIL CORELL
Board Member – Volunteer Coordinator
Gail is a homemaker and a retired RN and midwife who grew up in England and moved to the USA in 1990 when she married her husband Glen who is a retired USAF veteran and fighter pilot. They retired to Whidbey Island in 2006 with their son Max, who currently attends WSU, "Go Cougs".
Gail enjoys volunteering with several non-profit organizations; she loves the great outdoors, gardening, cooking, horses and big dogs. As a teenager, she rode English style and did a little jumping.
Click here to learn more
She helped "Equestrian Crossings" get off the ground in 2009 and served on its first Board of Directors as VP while also holding the positions of Hospitality Chair, Volunteer Coordinator and Sunshine Person. Currently, she is the Volunteer Coordinator, hospitality person and photographer and loves every minute of it. Her passion is to make EqX successful, to be the best wife, parent and friend possible and to give back to the community in any way she can.
She hopes to help start a new program within EqX in the future called "Horses, Hearts and Heroes" which will serve returning military personnel and their families in their recovery from physical and psychological injuries.
Gail is passionate about what EqX  offers it's students and volunteers and loves being part of the EqX "herd" because it is just so incredibly rewarding! Even the horses love it.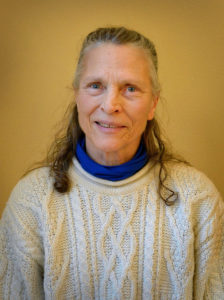 JOANIE PRYOR
Board Member
I started riding at an early age but with no real formal training.  This continued through my teen years when I had my own horse.  Any show experience I have is minimal and took place mostly during my pre-adolescent and teen years.  Periodically throughout my adult years I would ride the horses of folks who did not have time to ride and keep them in shape.
In 2010 I began a two year equine studies program at Feather River College in Quincy, California.  The focus of this program is to learn about and train young ranch horses.  The college has its own herd consisting of brood mares and breeding stallions.  It is quite a comprehensive program where we learned not only the ins and outs of breeding, birthing, and raising foals but equine nutrition, horse anatomy, rudimentary veterinary medicine including being able to recognize and treat various illnesses and injuries, starting young horses including working cattle, and general ranch management.
Click here to learn more
In addition to the training program, the college also offers a pack skills course where we learned to pack into the back country using horses and mules.  This course consisted of learning the different types of pack saddles and the appropriate hitches depending upon the load.  We also learned and had experience developing, preparing, and serving meals that were cooked over a campfire.  Most of this was done in Dutch ovens!!
Upon successful completion, I received certificates both in training young horses and pack skills.  Following my time at FRC, I spent three summers working for Craig London at one of his two pack stations in the Eastern Sierra.  It was during these times that I was able to put my pack skills education to work.  As you well know, taking courses and actually working in the field are not the same and I am grateful I had the opportunity to put my skills to work.
To finish up, I will put in a plug for the equine program at Feather River College which is a standard 2-year community college.  It has four tracks: training young horses, ranch management, the rodeo team, and pack skills.  Russell Reid, the director, has done a stellar enough job developing this program that this year FRC is offering a 4-year bachelor's degree in Equine Studies.  Any person looking for a strong college program in equine studies would be wise to check into FRC.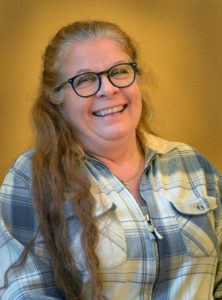 FRANKIE PARKER
Board Member
"I moved to  Whidbey Island in 1986 and fell in love with the place. I have owned horses most of my life, doing a little showing but mostly just pleasure riding. I started working for Oak Harbor School District in 2004 in their Food Service Dept and really enjoy the kids."
"I have been with EqX since 2010. I was hooked with my first lesson as a sidewalker. I love horses and I love people so putting them together and having fun makes my heart sing." 
Certification: CHA Certification June 2014, Western Level I