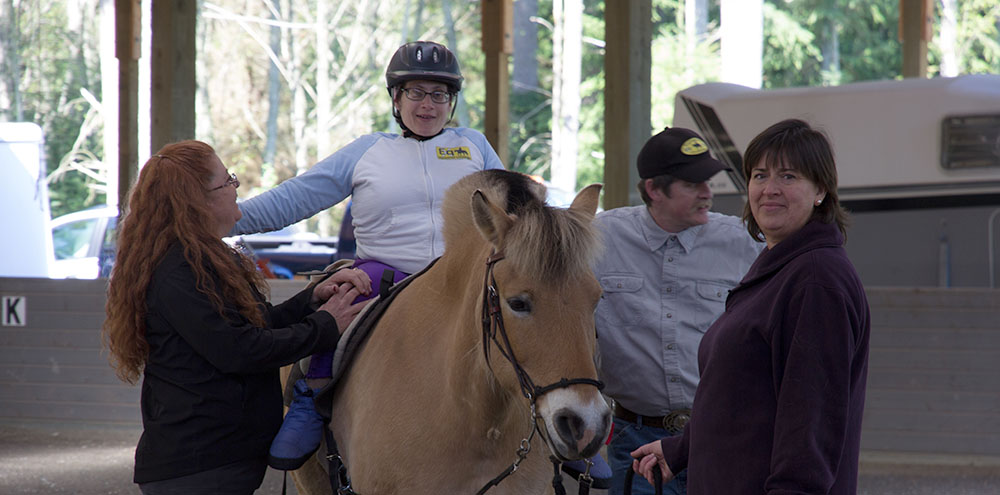 If you love horses and/or helping people, put your passion into play and join our volunteer team!  There is much to do, and many hands make light work.  Whether you can volunteer a few hours a week or a few hours a month, we'll help you get off to a good start.
There are a lot of opportunities to volunteer…
Current Volunteers:
Confirm your availability (days/ times).

Check your "Authorization for Emergency Medical Treatment" form for accuracy.

Please dress in layers for lessons

Closed-toe shoes or boots only

Bring your own snacks and drinks.
Future Volunteers:
No experience is necessary.

Must be 10 or older to volunteer.

Trainings are held every season.

Lessons held in Coupeville and Greenbank.

Choose where/what days/times you want to volunteer.
How to Sign Up:
Please print and mail this PDF
EqX Volunteer and Staff Packet PDF  to:
EqX
P.O. Box 924
Coupeville, WA  98239
Or contact our Volunteer Coordinator, Gail Corell:
With EVENTS
Holland Happenings Parade/Booth [April]

Coupeville Memorial Day Parade [May]

Summer Festivals Parade/Booth [July]

End of Year Party [November]

Greening of Coupeville Parade [December]

Promotional Speaking Engagements

Horse Shows

Food Handler's / MAST Permit
With ONSITE WORK / HELP STUDENTS
Horse Handling

Side Walking

Stable Management
With HORSES
Horse Sponsorship

Horse Trailering

Horse Boarding
With ADMINISTRATION / MARKETING/ FUNDRAISING
Board Member / Committee Chair

Volunteer Recruitment/Coordination

PR/Media Contact

Photography / Video

Grant / Newsletter Writing

Future Planning

Press Releases

Fundraising

Distributing Flyers/Brochures