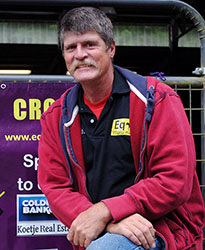 GREG ODLE
Board President
Greg was born and raised in the Pacific Northwest, lived around horses most of his life, and continues to enjoy riding with his family who continue to own several horses in the area. 
Greg has worked as a mason and in related skilled trades for over 30 years, but in his free time, became a certified riding instructor in 2004 for a "for" profit horseback riding program in Alaska, later using those skills to benefit a different therapeutic riding program in Florida where he volunteered for a year before moving to Whidbey Island. 
Click here to learn more
Greg continues to enjoy riding, as well as fishing, boating and camping.  He says he always feels better when he's actively participating in a program he values.  And Greg has certainly done that with Equestrian Crossings.  He started as a rider/student, and then moved into a volunteer where he helped students with grooming, helped as a side-walker for adaptive lessons, and now he is both a Member and on the EqX Board of Directors as the "Student & Family Liaison".   Greg's experience and love of horses are a great value to EqX and its students. 
WAYNE CESARO
Treasurer

Wayne is an adventurer with a desire to be of service to his community and a willingness to try new things.
Originally from New Jersey, Wayne ventured out to the Pacific Northwest in his early twenties and quickly found his new home. A Navy veteran and former ship captain, he transitioned from skippering vessels to a long career in IT and Program Management. In service to his community, he also spent many years teaching at-risk teenagers.
Click here to learn more
After moving back to Whidbey Island in 2012, he found himself with 2 horses and the opportunity to learn to ride. Equestrian Crossings provided him the opportunity to assist others in experiencing the healing power of horses.
Wayne lives on South Whidbey and can often be found working his property on his tractor or riding his horses with his wife, Catherine.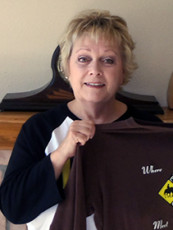 LORI LEHTO
Secretary & Sunshine Committee
Lori was raised in Anacortes, WA and has been riding horses since she was 6 years old. As a child growing up, and even up until the time her own children were in school, Lori's family has always had at least 2 to 4 horses for everyone to enjoy.
She's a firm believer that horses offer a unique compassionate bonding with those who take the time to really look into the heart of the horse. "As a young girl, my happiest hours of the day were always spent with my horse;
Click here to learn more
whether I was riding bareback through the  trails, or simply sitting on the ground with my horse's chin resting on my shoulder." Lori and her husband live in the Oak Harbor area.
Upon their retirement in 2 years, Lori looks forward to having lots of free time to volunteer her days with EqX working one-on-one with the horses however she's needed.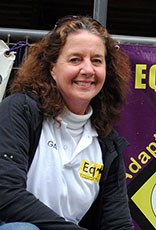 GAIL CORELL
At-Large Board Member – Volunteer Coordinator
Gail is a homemaker and a retired RN and midwife who grew up in England and moved to the USA in 1990 when she married her husband Glen who is a retired USAF veteran and fighter pilot. They retired to Whidbey Island in 2006 with their son Max, who currently attends WSU, "Go Cougs".
Gail enjoys volunteering with several non-profit organizations; she loves the great outdoors, gardening, cooking, horses and big dogs. As a teenager, she rode English style and did a little jumping.
Click here to learn more
She helped "Equestrian Crossings" get off the ground in 2009 and served on its first Board of Directors as VP while also holding the positions of Hospitality Chair, Volunteer Coordinator and Sunshine Person. Currently, she is the Volunteer Coordinator, hospitality person and photographer and loves every minute of it. Her passion is to make EqX successful, to be the best wife, parent and friend possible and to give back to the community in any way she can.
She hopes to help start a new program within EqX in the future called "Horses, Hearts and Heroes" which will serve returning military personnel and their families in their recovery from physical and psychological injuries.
Gail is passionate about what EqX  offers it's students and volunteers and loves being part of the EqX "herd" because it is just so incredibly rewarding! Even the horses love it.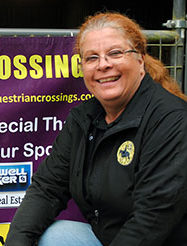 FRANKIE WERNECKE
Board Member
Frankie Wernecke has had a horse or horses most of her life. She's lived on Whidbey Island for 27 years and is the mother of 5 boys – 3 of her own and 2 stepsons. She works with the Oak Harbor School District as a 'lunch lady'.
"I have been with EqX since 2010. I was hooked with my first lesson as a sidewalker. I love horses and I love people so putting them together and having fun makes my heart sing," she says.
Certification: CHA Certification June 2014, Western Level I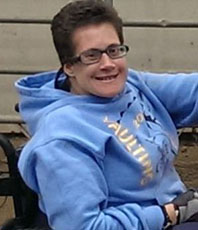 JACQUE DIAZ
Student & Family Liaison
Jacque represents adaptive student interests on the Board. She and Miriam met about 8 years ago, outside of WalMart. They talked about sports, and horseback riding. When Jacque commented that her only riding was pony rides, Miriam asked if she'd like to learn to ride. Jacque asked 'where do I sign', and the rest is history.
Jacque has been very competitive in Special Olympics, adaptive mountain biking and skiing.  As part of the EqX vaulting team Jacque is breaking new ground in equine vaulting, as she is one of the first adaptive riders to tackle this sport.
Click here to learn more
"Being on a horse has really helped me to work those muscles and to get stronger. It really seems to help out."
CATHERINE CESARO
At-Large Board Member  – MS Committee

Catherine is an avid equestrian. After moving back to Whidbey in 2012, she quickly found Equestrian Crossings. As a kindred spirit in supporting their mission and contributing to the community, she joined their board.  She brings a professional background with a  Masters degree in Education and a career in Human Resources.
Catherine was introduced to horses early in life, starting out riding Western then transitioning to riding as a hunter jumper. Her love of animals was always a priority.
Click here to learn more
She managed several emergency animal hospitals in the Seattle area through college. When she saw a need for skilled veterinary techs, she lobbied the local community and went on to found the Vet Tech program at Bellingham Voc Tech – a program now in its 25
th
year.
Identifying the needs of both people and animals is Catherine's life-long work.  Whether it's promoting programs matching the special needs of people and horses or navigating the challenging road of employee relations, Catherine pursues tasks with purpose and an understanding of the therapeutic nature that is inherent within animals. She believes EqX is well suited to assist those who can benefit from healing nature of horses.
On any given day, Catherine can be found tending her horses, dogs, and chickens and taking in the sun (or rain) on her deck on  South Whidbey.  She finds it gratifying to have found EqX and fully supports its mission and the people who make up the organization.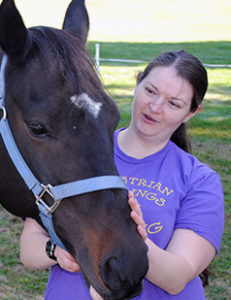 TIFFANY DERRICK
Board Member
Tiffany became an EqX instructor in September 2015.
She grew up with horses and loves being part of the very diverse equine program at EqX.  Tiffany has been a volunteer with EqX since 2012. She volunteers in the arenas whenever her very erratic work schedule permits, and she travels to events and competitions to help out however she is needed.
Tiffany is currently on deployment with the US Navy.
DENISE PERKINS
Program Administrator

Though I am new to the reigns of this program, I have many years of experience as an educator and project manager for Mukilteo School District where I created and ran a nonprofit dental clinic within the classroom setting for 18 years.
I was the classroom instructor of the dental assisting program as well as operating the Snohomish County Oral Health Program. As part of this, I created and fundraised for their Smile Mobile — a nonprofit mobile dental van.
Click here to learn more
As a project advisor for the University of Washington I was the  person in overall charge of the planning and execution of the clinical components of the project.
I have skills in working with organizations that needed to keep on track but were busy doing what they did best. As with EqX, the experts need to attend to the rider, horse and volunteers. I do what I do best: manage the moving parts, less the horse.