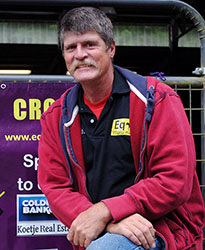 GREG ODLE
Board President
Greg was born and raised in the Pacific Northwest, lived around horses most of his life, and continues to enjoy riding with his family who continue to own several horses in the area. 
Greg has worked as a mason and in related skilled trades for over 30 years, but in his free time, became a certified riding instructor in 2004 for a "for" profit horseback riding program in Alaska, later using those skills to benefit a different therapeutic riding program in Florida where he volunteered for a year before moving to Whidbey Island. 
Click here to learn more
Greg continues to enjoy riding, as well as fishing, boating and camping.  He says he always feels better when he's actively participating in a program he values.  And Greg has certainly done that with Equestrian Crossings.  He started as a rider/student, and then moved into a volunteer where he helped students with grooming, helped as a side-walker for adaptive lessons, and now he is both a Member and on the EqX Board of Directors as the "Student & Family Liaison".   Greg's experience and love of horses are a great value to EqX and its students. 
Secretary
& Sunshine Committee
(PENDING)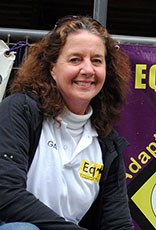 GAIL CORELL
At-Large Board Member – Volunteer Coordinator
Gail is a homemaker and a retired RN and midwife who grew up in England and moved to the USA in 1990 when she married her husband Glen who is a retired USAF veteran and fighter pilot. They retired to Whidbey Island in 2006 with their son Max, who currently attends WSU, "Go Cougs".
Gail enjoys volunteering with several non-profit organizations; she loves the great outdoors, gardening, cooking, horses and big dogs. As a teenager, she rode English style and did a little jumping.
Click here to learn more
She helped "Equestrian Crossings" get off the ground in 2009 and served on its first Board of Directors as VP while also holding the positions of Hospitality Chair, Volunteer Coordinator and Sunshine Person. Currently, she is the Volunteer Coordinator, hospitality person and photographer and loves every minute of it. Her passion is to make EqX successful, to be the best wife, parent and friend possible and to give back to the community in any way she can.
She hopes to help start a new program within EqX in the future called "Horses, Hearts and Heroes" which will serve returning military personnel and their families in their recovery from physical and psychological injuries.
Gail is passionate about what EqX  offers it's students and volunteers and loves being part of the EqX "herd" because it is just so incredibly rewarding! Even the horses love it.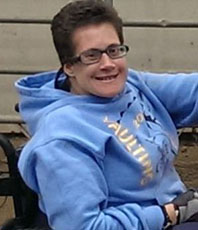 JACQUE DIAZ
Student & Family Liaison
Jacque represents adaptive student interests on the Board. She and Miriam met about 8 years ago, outside of WalMart. They talked about sports, and horseback riding. When Jacque commented that her only riding was pony rides, Miriam asked if she'd like to learn to ride. Jacque asked 'where do I sign', and the rest is history.
Jacque has been very competitive in Special Olympics, adaptive mountain biking and skiing.  As part of the EqX vaulting team Jacque is breaking new ground in equine vaulting, as she is one of the first adaptive riders to tackle this sport.
Click here to learn more
"Being on a horse has really helped me to work those muscles and to get stronger. It really seems to help out."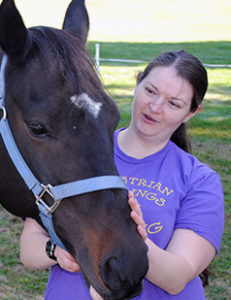 TIFFANY DERRICK
Board Member
Tiffany became an EqX instructor in September 2015.
She grew up with horses and loves being part of the very diverse equine program at EqX.  Tiffany has been a volunteer with EqX since 2012. She volunteers in the arenas whenever her very erratic work schedule permits, and she travels to events and competitions to help out however she is needed.
Tiffany is currently on deployment with the US Navy.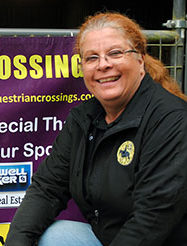 FRANKIE WERNECKE
Board Member
Frankie Wernecke has had a horse or horses most of her life. She's lived on Whidbey Island for 27 years and is the mother of 5 boys – 3 of her own and 2 stepsons. She works with the Oak Harbor School District as a 'lunch lady'.
"I have been with EqX since 2010. I was hooked with my first lesson as a sidewalker. I love horses and I love people so putting them together and having fun makes my heart sing," she says.
Certification: CHA Certification June 2014, Western Level I